It's November, which means it's IAAPA month and new game unveils and releases. The first one we have to discuss is a new arcade virtual reality piece by a Swiss company called Kynoa.
Called Koliseum Soccer VR, their flagship VR concept creates a virtual reality foosball/table soccer piece, using a realistic table with moving player rods and Oculus Rift headsets. Here's the trailer to give you a solid idea of how it works:
While the game has existed for a couple of years, today US-based company Barron Games International (who deals with a variety of amusement products including air hockey, foosball, video games, etc.), announced that they have become the exclusive distributor for Koliseum Soccer VR. This marks the first time that Barron will deal with the tech, although it's not the first time that they have dealt with foosball.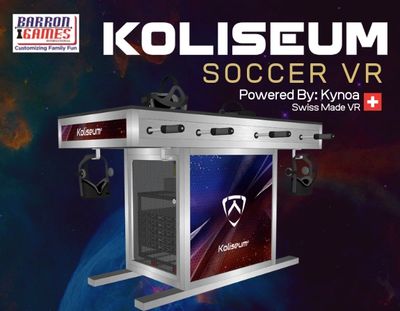 For the model that Barron will be selling, it features four rods per side (each player gets two), four Oculus headsets and a PC powerful enough to drive them all. The main website for Koliseum mentions that it is "tournament and e-sports ready," along with the table being customizable. The latter isn't a surprise with Barron involved, given that they have created custom equipment for many clients across their product lines. They also claim that there is no motion sickness, although compared to a lot of the VR games seen at IAAPA, this one certainly moves the user around the least, which does help (where I'm prone to such vertigo when using a headset, I have noticed that the more you have to move around or are in a motion seat, the worst the effect is, while standing relatively still means I'm fine).
Koliseum Soccer VR will be available in both coin/pay-to-play and non-coin formats. In what seems to be a rarity these days, Barron has also released a flyer to describe more of the features [PDF]
With IAAPA starting two weeks from today, the Koliseum Soccer VR can be found at two booths in case you are interested: E7135 (Kynoa) and 1006 (Barron Games).
While I hadn't thought about VR foosball like this before, now I wonder what AR or MXR foosball would be like (the latter probably being more difficult to implement with the speed that the men on the rods can spin).
What do you think about Koliseum Soccer VR from the info above?