Welcome to Newsbytes, a weekly or bi-weekly curation of news from around the world of arcades & pinball.
Stay tuned to YouTube on Monday/Tuesday as I will be posting an Amusement Expo 2021 preview, discussing what we know will be there – along with some guessing on the blank spots.
A New Trailer & Launch For BumbleBear's Black Emperor Arcade
I suppose you could call this a relaunch, or an updated 2021 model, as this game was already said to have launched back in March of 2019, although it's possible that BB quietly changed plans and kept it more as a test piece since then. Regardless of all that, it's now available to purchase directly from BumbleBear Games for $5,999. It also has added a fan to simulate wind effects as you play – something that we've seen on a number of racing games, but never on an upright cabinet quite like this. The game also features procedurally generated tracks, changing them out every week to drive replay value to the game. I did play it at Amusement Expo 2019 and found it to be a lot of fun, so I would highly recommend checking it out if you come across it out there.
Elaut USA Debuts Three New Games At Bowl Expo
Bowl Expo 2021 has come and gone, being the first major event in our industry since Amusement Expo 2020 took place in March of last year. Stern Pinball had The Mandolorian pinball on hand, Raw Thrills had Minecraft Dungeons Arcade for its first official industry showing, and Elaut USA burst onto the map with three new titles, two of which we mentioned on the blog this week. I normally haven't covered Elaut since they tend to be focused on cranes and coin pushers, but these three are all video-related.
For the two that were mentioned, they had Touch Magix's SpaceWarp 66 Mega and Boxblaster's VR-Xperience (although in the brief video of their booth, it appeared as though there was no VR headset present on it, so it could be an early prototype). For the third was something that I've mentioned in the past, a game that's been on test in several different forms called Surfin Surfari. Designed by Team Play Inc., this is a surfing videmption game where you stand on a surfboard controller, not entirely unlike Sega's Soul Surfer or Namco's Samurai Surf X. I assume that these same three games will be in Vegas next week, so I'll provide more info on them then.

Andamiro USA Moves Operations To Texas; Bhutani Returns To The Biz Via Komuse
This is more "inside baseball" stuff, but some of you might be interested to know that Andamiro USA is no longer based out of California. The company had been operating there since 2000, but to help provide better, more centralized access to game shipments, parts & tech support, and probably to help lower operational costs, they've made the move to Irving, TX. Here's the new building, a place that they had purchased back in 2019 and began renovating since that time.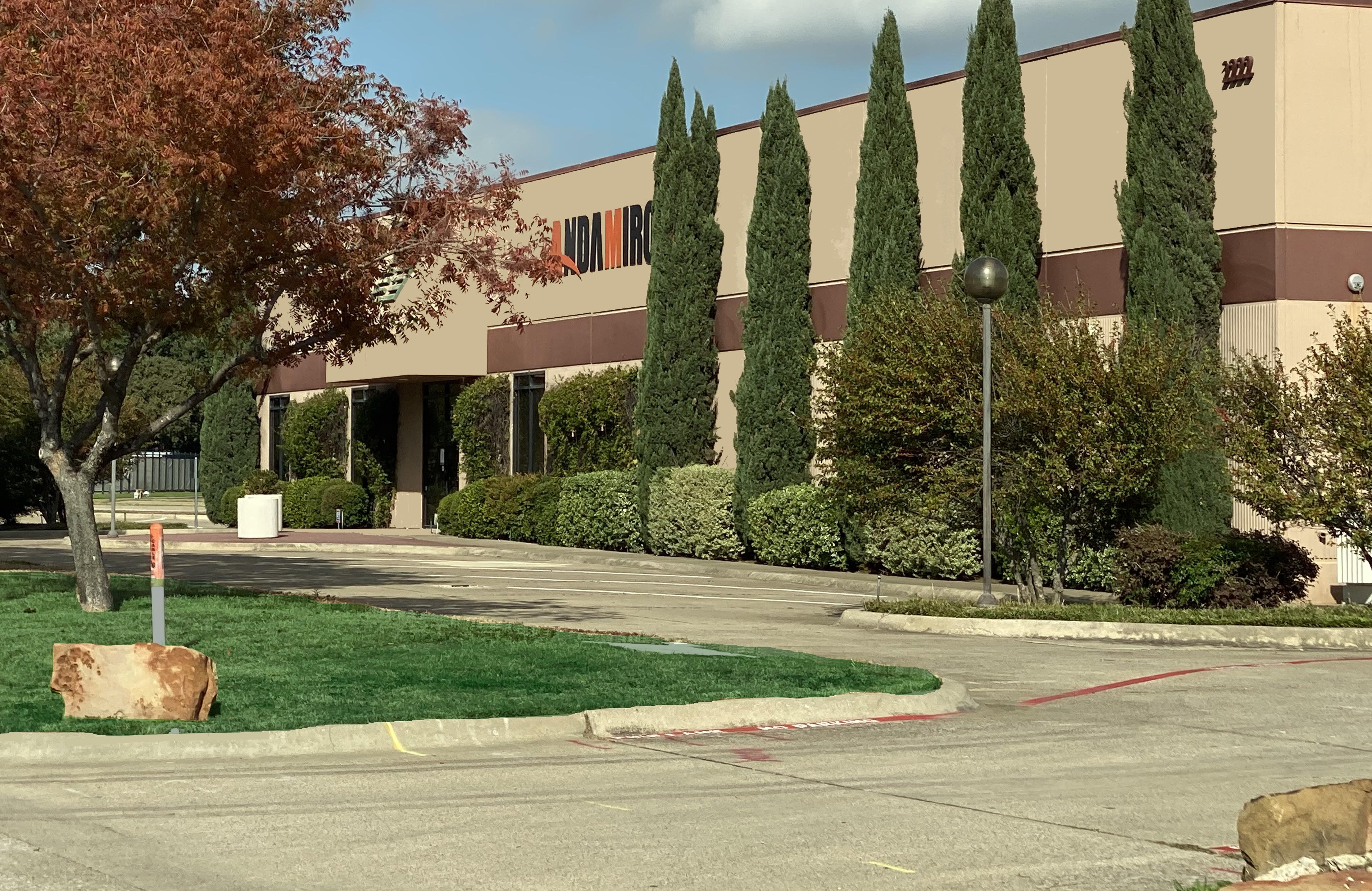 A somewhat related surprise I received this week is that Satinder Bhutani is out of retirement and is now president of South Korean-based Komuse. Many in the biz know Satinder from his long time at Andamiro USA, but not long after the pandemic started last year, he announced his retirement. That appears to be short-lived as he will help Komuse expand its offerings into the US. Komuse is best known for their Keymaster prize merchandiser machines, but they've also produced various other games that are carried by companies like Sega Amusements, including the popular Power Roll. It's unclear at the moment if anything will change between Sega & Komuse now, but since Satinder and Komuse will be at Amusement Expo, I'll ask about it. Here are the three new pieces that will be at Expo (all redemption):
Retro Raccoons Game Modes Trailer
Curious as to how the game modes work in the new party game Retro Raccoons from Glitchbit and Incredible Technologies? Well here you go:
This will also be at Amusement Expo.
Playing Cruis'n Blast Arcade
Since interest is rather high in Cruis'n Blast at the moment, I took the opportunity to do a full capture of the game using some newer capture hardware that I have. I also did this recently with Blazing Chrome AC and The Walking Dead. I've got one of Outnumbered that I'll post sometime soon, otherwise I need to find the time to do something like HOTD: Scarlet Dawn (it's at a location I only visit once or twice a week, so it a little more difficult to do):
Arcade Remakes Part Of The Highlight In The E3 IntelliVision Amico Trailer
I'm still somewhat curious about the upcoming IntellVision Amico, a "family-friendly" console that is eschewing power for a focus on the kind of couch gaming that Nintendo has turned into an art form. I'm still skeptical about it for a number of reasons, one of which is how they keep acting like Nintendo doesn't already bring families together for living room gaming, but I guess that's the kind of spin you have to put on it when you have to say that you're "not competing" in a highly competitive gaming market.
That said, their e3 trailer did show off some more recent footage of some of the arcade remakes that will be present on the system, and it's more than anything that Atari has bothered to do with their pointless $400 VCS console that has zero exclusive content on it. If you don't care about the introduction+talking+out-of-place epic movie trailer music stuff, jump to 1:48 to see Moon Patrol. There are a bunch of quick cuts but they also have a new Missile Command, a new Breakout, and a game that looks a lot like a new Armor Attack. Some of the games that they show do seem to have frame rate issues, but this is still early – if that's all present on the release games though, then it won't matter how much you call it family-friendly, it'll be a problem. Same thing with input lag.
A little More Detail On Elevator Action Invasion
Reader Alex N. reached out to me with some nice pics of the new Elevator Action Invasion and included his impressions of the game. You can find this at any Dave & Busters right now, where I've been hearing mixed (albeit mostly negative) comments about it. Some of that has to do with how short the game is – only 3 levels – and when it ends it just…ends. No end sequence, no leaderboards. I've also heard various reports about it having hardware issues, mainly with the screen. Those things aside, it is an impressive cabinet. Alex mentions that it makes you feel like you are standing in an elevator, including how the floor works. I hadn't heard this detail, that the floor rumbles to simulate the elevator movement as well, which is a nice touch. Here are some pics he sent along:

Still no word on when this will be available for everyone else to grab, although from the sounds of it, they need to finish the game up and correct the hardware issues.
Headlines
California Extreme Is Happening (Just No Announcement On Exactly When, Yet)
An Ice Cold Beer EM Game From 1982 Just Sold For $11,385
Another Pirated Version Of Transformers Human Alliance Out Of China – Some people misunderstood this and thought it was a new sequel to the game. Nope!
Taito Milestones Brings Taito Arcade Classics To The Switch
The Unreleased Taito home Console WOWWOW Was Based On The F3 Arcade System
Fixing An Ultimate Mortal Kombat 3 PCB
That's One Less Arcade1up Cab In The World
ColorDMD Adds Playboy Pinball To The Roster – Slightly NSFW
I was also going to share an article about these custom lenses that could be applied to make an LCD sort of look like a CRT, but I guess it got too popular for the blogger so he took it down :/
That's all I managed to find for this week, thanks for reading and we'll see you on the next story!