Welcome to the latest edition of Newsbytes, a weekend post that curates some quick news from the wonderful world of arcade and pinball gaming. I meant to have this published yesterday, but all of the 4th of July festivities had me sidetracked.
Not much to update on my arcade trivia game this week, running into a roadblock in trying to setup a simple push-the-button-to-go-to-a-new-screen. At least it should be simple…
New Bomberman Arcade Spotted At Round1USA in Lincoln, NE
Let's start with a surprise – something that probably could be worth a whole post on it's own. Site reader Jordan posted some photos on Twitter of a new videmption game that popped up at a Round1 USA in Lincoln, NE (Gateway Mall), and the web has been buzzing with questions about it. Called Bomberman Arcade, fans would be wise to temper their expectations here – it is not Bomberman as you know it. The game appears to follow a similar pattern to fishing games, but instead of hooking fish, you aim where your bombs will go with a joystick, then toss bombs onto the playfield. There are a number of enemies and obstacles you can face, and it supports up to 8 players across the two screens. Doesn't seem likely that this has any amusement mode to it where it would play like proper Bomberman; it's also unclear (well, unlikely) that anyone other than Round1 will be getting their hands on these, unless they have that special, secret relationship with Konami to buy direct: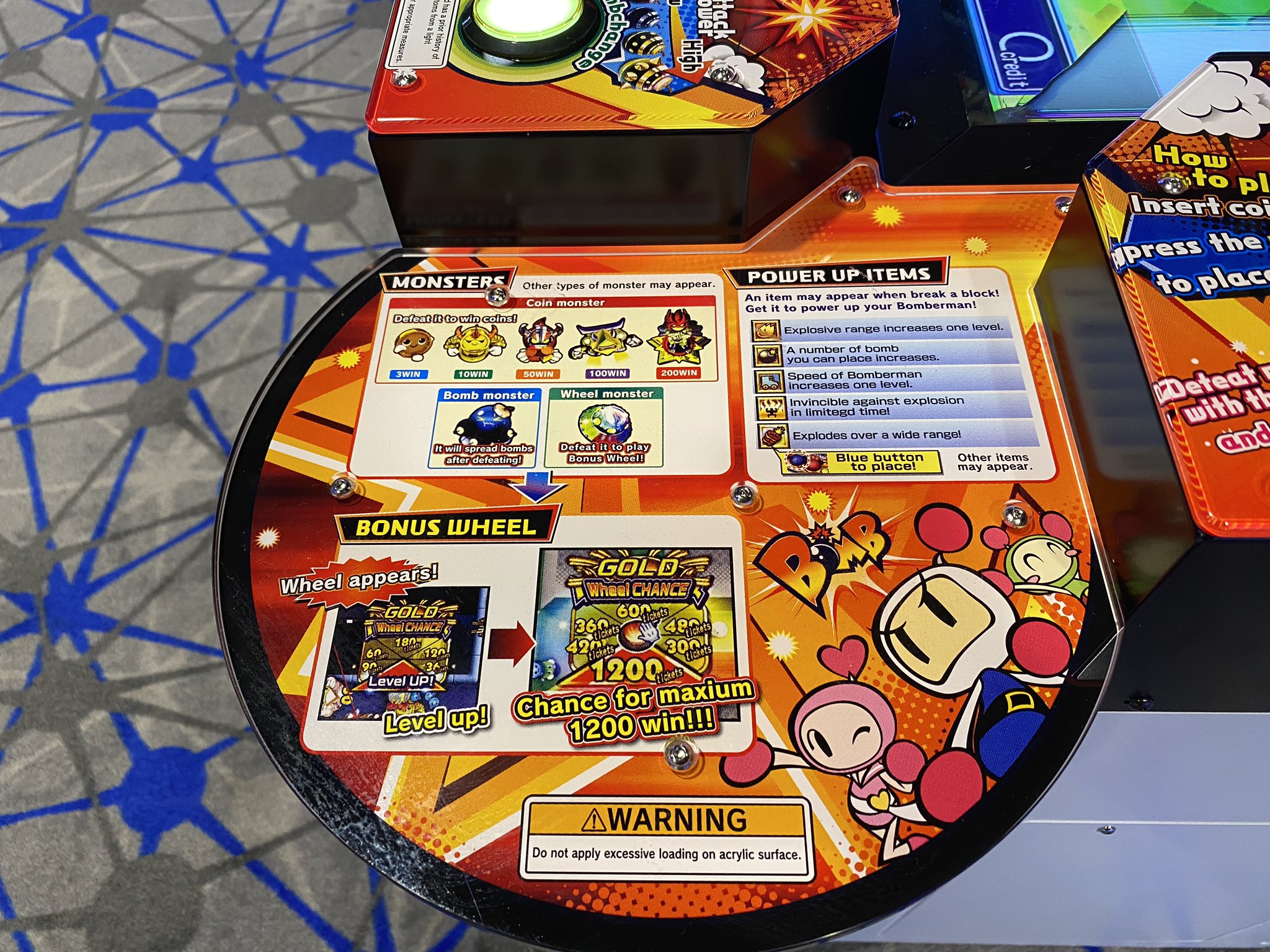 New Cosmotrons Video
It's been a little while since we had something regarding the indie arcade game Cosmotrons. Here's a fresh and in-depth look at the second prototype cabinet for the game; If you are interested in picking one of these up, they are still available:
The VOID Loses Their Disney/Star Wars License
It seems like ages now, but back in 2015 I had the pleasure of traveling down to Lindon, UT (about 30-40 min south of where I am) to experience an up-and-coming LBE VR experience called The VOID. It was an impressive setup with a lot of potential, but what was being promised – hundreds of locations open by the end of 2017, their own 8K VR headset, "after you go to the movies and see Ironman, then you'd go to The Void and be Ironman," – was all a bit off the mark.
Granted, their pitch did get them into some high profile places, such as Madame Tussauds New York with a Ghostbusters experience, and more recent openings where they were involved with Disney and Star Wars.
Unfortunately, that blessing for the Star Wars experience at the Disneyland Resort (California) has been revoked as reported earlier this week. While VOID locations had been temporarily shut down due to the pandemic, the notice came along of a permanent shut down and revocation of their lease. This happened due to a license breach, and as stated in the story above, "The Void must cease all use of Disney IP, or intellectual property, through Star Wars: Secrets of the Empire and Ralph Breaks VR, plus any and all Disney promotional material, trademarks, and confidential information." While there is no statement that I can find from the company about this, or what happened to incur the breach, it seems that would also put into doubt the continued operations of The Void in Disney Springs (Orlando, FL).
That said they do have other non-Disney locations, but whether they have anything else ready to go plus the resources to continue their other operations in the face of losing a star IP, it's difficult to see how they'll survive. I'm not saying that it's impossible, but I am also not surprised to see LBE VR taking a big brunt of the impact.
Speaking of that, Facebook has also pulled support for LBE/commercial use of Beat Saber. While Beat Saber Arcade units by VRsenal will still work, they won't be able to sell new units here soon (per an email explanation sent out by the company this week). I wasn't able to find out exactly why Facebook would do that, although I've often heard that Oculus and Facebook have held an anti-amusement attitude over the years (in part, they don't have anyone that understands the business).
At least Capcom is throwing a bone to Megaman and VR fans in Japan though…
New VLOG – Arcade Survival 2020
Along those lines, I did a VLOG this week with some thoughts on our industry surviving the pandemic. I did not cover Virtual Reality, so I can throw that addendum in after the video.
One thing I didn't really expound on was all of the disinfection efforts we've had in place – constant cleaning of controls, particularly high-use games, disinfecting floors, setting up hand sanitizer bottles all over the place, and setting up a UV-C based air filter. I would set-up hand-wipe stations, but those have been harder to find than sanitizer gel.
For a different and longer perspective on re-opening, here is a video posted by the AAMA this week that is related:
While it's challenging for all of us moving forward, I think that movie theaters and VR have the toughest job making it work. Again, not impossible, but I honestly cannot see how most of the 80~ VR-centric companies who were vying for attention at the past few IAAPAs will figure it out, unless they branch out into more affordable & space-conscious products. On the "affordable side of things, VR is generally the farthest from that – most quotes fall into the $50-100k range. This puts them up against other high profile attractions, and blow those arcade prices I spoke about above, out of the water.
This was mentioned in the VLOG, but among locations that have opened, many seem to be operating at 30-50% of their normal income (by what I've heard and what I've experienced). Certain bills are going to take precedence over new equipment (rent, wages, insurance, taxes, electricity, maintenance, existing loans). I did manage to get an EDRL from the SBA for working capital, although that's been mainly going towards consolidating other debts. I am picking up a Family Guy Bowling this week, although that's available as a great deal since it's used.
If locations aren't going to spend $30k~ on a Super Deluxe arcade game right now, then chances are they aren't going to up the ante on VR. Hygiene/cleanliness of the headsets has always been one of those issues that has been at the forefront of the tech, and now the consumer is far more germophobic than at any time I've ever witnessed. Yes, this is an issue for standard arcade games, and to be fair to VR, most setups out there require attendants around to ensure that equipment is cleaned between uses (or they have wipes nearby to clean headsets down with). I just see  the hurdles of perception being harder to overcome when you are talking about wearable tech.
Which NAOMI Title Is Coming To The Switch?
Your guess is as good as mine, but it's happening per this info. Of course, many are paying attention to the possibility of Dreamcast games headed to the Switch, but there were a lot of ports. NAOMI wasn't the only arcade board to share architecture with the Dreamcast; you also had the NAOMI 2, Atomiswave and the System SP, among others.
Pokémon MEZASTAR Available In Japan This Fall
[H/T to Arcade Belgium on this one] The universe of "kid vending" will be getting a boost this Fall when Marvelous is launching a new Pokémon game to Asian markets called Pokémon MEZASTAR. This is a sequel to Pokémon Ga-Olé, which introduced themed "plates" as the vending object instead of your typical cards. The official website is here.
Pac-Man Panic Promo
It doesn't seem like Bandai Namco will be launching Pac-Man Panic out West anytime soon(if ever), but Chinese manufacturer Wahlap is still promoting it:
Satinder Bhutani Retires From Andamiro USA
This had been mentioned previously, but with the arrival of July 1st, it's now official – Satinder Bhutani has retired from Andamiro USA. He is an easy-going, soft-spoken man who was always a pleasure to deal with. A complete history of his career is found at this link, where he cut his teeth in the biz by joining Capcom USA right as they launched Street Fighter II (interesting stat is found here – that Capcom USA had sold 200,000 Street Fighter II cabinets, which would put it at twice the reported amount of Ms. Pac-Man). Satinder is being succeeded by Drew Maniscalo, who has been with Andamiro for a while and also is known for his work on the quirky Ninja Baseball Bat Man.
To Satinder: Best of luck sir!
'80s Prototype Footage – Super Motor
I am not sure if this is a recent discovery that popped up into MAME, or if it's just something that's from such an obscure company that no one had heard of it before. Super Motor looks like it was trying to be Spy Hunter without the fun/shooting stuff/speed, although that might be a little harsh – being a prototype, who knows how it might have changed between the available build and a final release. What is shown here has you driving a motorcycle along, collecting objects and avoiding the occasional car. Judging by the music/sounds and the style of graphics, I'd guess this was in the works sometime around 1986-88
Let's end this one with a meme that popped up on the internet this week about some certain arcade gaming platforms: