Mentioned on the blog a few times already, on Monday I got my hands on Lightning Knights for my Exa-Arcadia system. Thus we can say that the game is available in the event you have an Exa, or if you wanted to buy a bundle.
Instead of just adding those couple of sentences and calling it a post however, I wanted to show you how it compares to the console versions. Known as Iron Crypticle on PC, PS4, Switch & XB1, I found the whole idea of a Smash TV meets Gauntlet style adventure or RPG game for arcades to be very appealing. I downloaded the game to my Switch last year and have enjoyed playing it…although it is a tough game that I have been unable to complete all four dungeons so far.
I was a little perplexed by why they changed the name from Iron Crypticle to Lightning Knights…why not just call it Iron Crypticle EXA, like they've done on some other titles. Well, today's video should enlighten you about that, as there are quite a few differences. The graphics are the same, unless you activate the CRT overlay filter, but that just gives it a kind of CRT look (there is a scanlines option too, in case you want it used). So where it changes is in gameplay and sound. Here's an extensive comparison between the two:
One thing is that the single stick nature of the Exa does take a little getting used to, and in later levels makes for a tougher challenge. This is especially true on Ambushed and Infestation levels where you just get pummeled with enemies. They also made some subtle changes as you may have noticed – the range of the Atomic Fist is significantly smaller, scrolls are activated immediately, each character already starts with some stats boosted, etc. One thing I need to go back to and check is receiving stat boosts as a pick-up – I wasn't aware that collecting 8~9 items in a row is what can trigger that, unless that's only an arcade thing.
When I first saw the trailer for the game and heard the voice overs I was kind of 'meh' on how they sounded, but in person they are just fine and help enhance the personality of the game. This is a title that doesn't take itself too seriously, which is part of the fun. While the art style intentionally makes it look like a late '80s or early '90s game, it looks fantastic on a big 4K screen.
For negatives, they are minor – when you die with a high score, you might not notice that it's asking to insert initials and end up inputting incorrectly since you're still tapping attack. The issue is that I haven't figured out how to rub a letter to go back yet (I might have overlooked the rub character while scrolling). It also would be nice to be able to pull up the map before you move on to the next room, for those of us with terrible old-man memories. No biggie on either one though.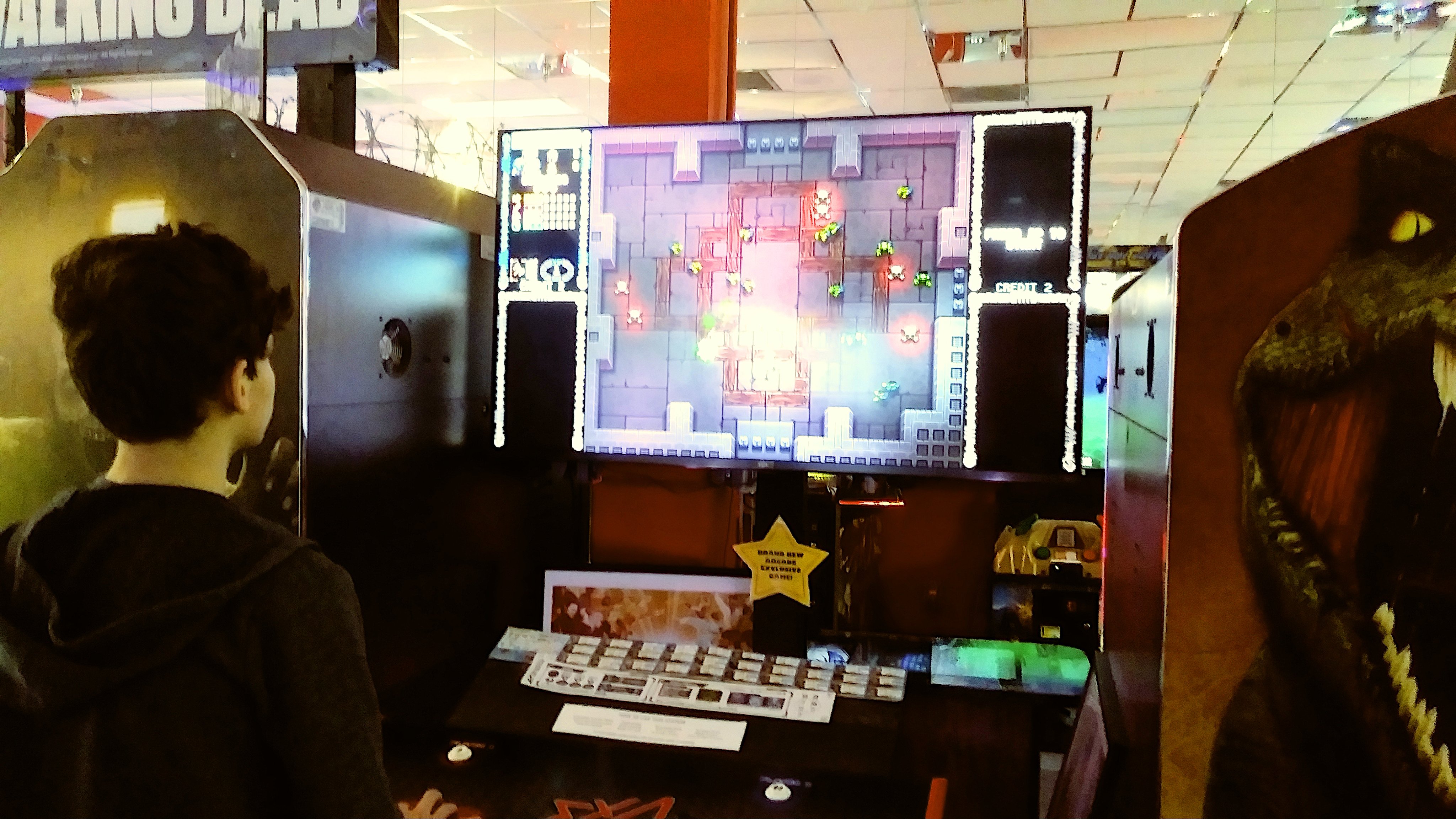 Otherwise, I have enjoyed playing it, as did my son(pictured above). He came to the arcade the day we got it and while he normally ignores most of the games I have (he has a few he doesn't mind playing, but he's "used" to everything), he say LK and really got into it, playing it for a nice while. I do think that this is best played with a friend or three. While this is the first 4-player game for the Exa (and also the first RPG-ish game we've had for arcades in years), my setup only works for 2 players. There are three options in the menu for changing things up – Local (for my 2p situation); Team (2 cabs linked); and Versus for the Japanese VS. cabs where 1p is on one cab, 2p separate on another. Also note that for anyone wanting this as a 4p game, you need to also have 2 JVS I/O boards.
If you want to play this, and have an operator running an Exa near you, then ask them for it! If you have an op near you with no Exa and want to play this, then same suggestion – ask them to get one (but really show up to play it if they get it instead of paying lip service to it). Until then, welcome a new RPG-ish game to the fold!