Welcome to another edition of Newsbytes, a quick collection of news items from the arcade world.
Things Coming Along For Super Nintendo World At Universal Studios Japan
If you plan on heading over to Japan for the Summer Olympics next year, then you'll want to make sure you have the funds to visit the hottest new attraction that will be opening at Universal Studios Japan – Super Nintendo World. Construction has been on-going at the park since 2017, with around 60 million yen (approx. $54 million) being invested into the park. Thanks to Kevin Williams, we have this distant look of how a part of the park is coming along:
Adrenaline Promotes Rabbids & Ladders
I think it's safe to say that the two new games from Adrenaline Amusements at IAAPA 2019 will be Hot Wheels – King of the Road and this one, Rabbids & Ladders. Playing off of the ancient Snakes 'N Ladders board game concept, you're just using Ubisoft's Rabbids instead of snakes to reach the top and win the ticket bonus. This looks like it might be a replacement for the 4-player Rabbids Ticket Fiesta game that was never released.
Rediscovering DiverBras And Their Sports Car Cabinet Add-ons.
Waaaay back in 2008, I discovered the existence of a Brazilian arcade distributor by the name of DiverBras. While distributors are usually just middle men between the manufacturer and operator, sometimes they will fund unique projects or make something themselves. DiverBras decided that one way for them to stand out, and to bring more value to the old games they were selling was to remake the cabinets with Sports Car Add-ons. While this didn't change a thing about how the game would play, it did help the "feel" of the cabinet. After that article, I kind of forgot about them until I visited Brazil in 2012 and came across one at an arcade in Belo Horizonte, then forgot about them again until I came across this new version they've cooked up for Cruis'n World. This is a completely new cabinet by the looks of it, with LCD monitors and side art, although the seats and control panels look original. I'm not sure how much these cost, and imports/exports from Brazil is still an expensive, frustrating nightmare, but it's a great idea.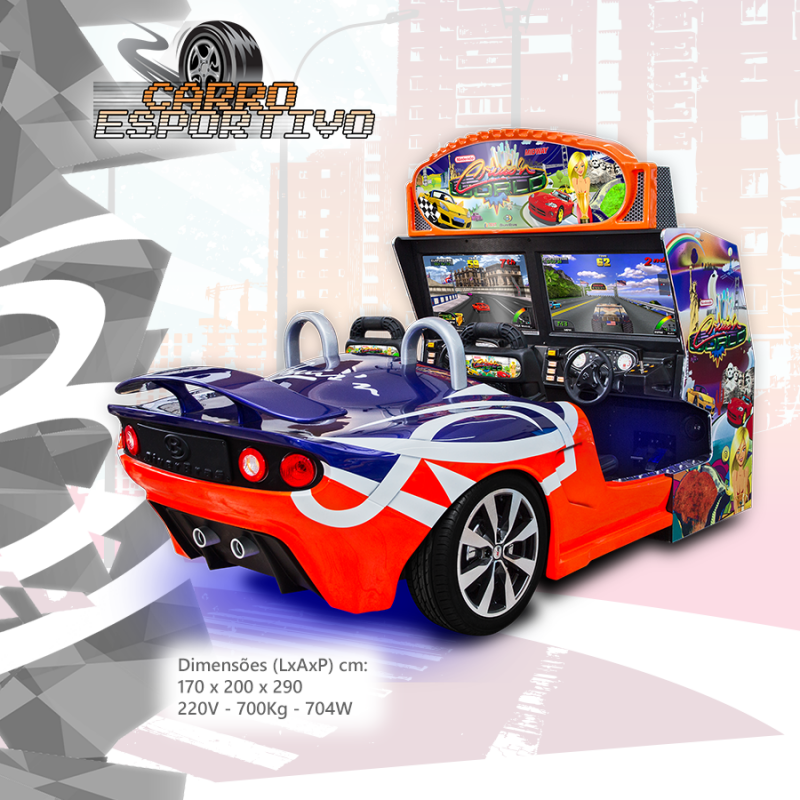 Galactic Battleground – Single Player Mode
I've had a lot of focus on the arcade indie scene on the Arcade Heroes YouTube channel lately, and this week posted footage from another game that was on our indies showcase, Galactic Battleground. In response to the video, one of the developers behind it said that he would love to get feedback from the community on this to improve it further. Check it out below, then click and comment if you feel so inclined to share your thoughts about it.
Also, big thanks to everyone that has subscribed to the AH channel! We just hit 7,200 subs. It's not much in the wide world of YouTube, but still pretty good. Let's see if the footage I'll collect at IAAPA can push it over 8,000 😀 On that subject, I am hoping to have a review of Raw Thrills Teenage Mutant Ninja Turtles up this next week, along with an IAAPA 2019 preview VLOG.
Making Jurassic Park Pinball
Curious as to what went into Stern Pinball's latest creation, Jurassic Park? Well here's a video to help you out!
That's all we've got for this week, thanks for tuning in and have a great weekend everyone!