Welcome to Newsbytes, a collection of news items from around the Arcade & Pinball world for your reading enjoyment.
King Kong of Skull Island Adds A 3rd Chapter
Operators who have a King Kong VR machine from Raw Thrills will be happy to hear that there is a free update available for the game, one that adds a 3rd chapter to the mix. They posted this preview of the chapter to Vimeo; Contact the distributor you got the game from for instructions on how to update.
New App & Partnership To Allow People To Play Redemption Games Remotely
A while back, you might recall news about Namco USA selling off their arcade operations in multiple parts. One of the companies to pick up a piece was National Entertainment Network, or NEN. They are a massive arcade operator, with over 20,000 games in service across the USA.
Today, they announced a partnership with a company called Playertainment, stating that they have a new app called Winner Winner that allows for remote play of certain games found at NEN locations. From a part of the press release:
Playtertainment's live mobile gaming app Winner Winner allows users to play physical arcade machines from a mobile device. Prizes won and tickets redeemed from virtual play of claw machines and other physical arcade games are mailed to the winners. As part of the partnership launch, thousands of in-person arcade games at retail stores, restaurants, and entertainment venues will become a digital gateway to the Winner Winner platform.
The full press release can be found at the bottom of the post and with a quick check, the app looks like it has been live for a while (I only have Android, but I assume it's on iOS too). With this partnership, it should allow the options of what is available in the app to greatly increase and it should likely help NEN too.
Vice Gives The London Arcade Scene A Glowing Review
Well this is refreshing – most of the time when a mainstream news source talks about arcades, they tend to focus on the negatives, or talk about how dead things are. For this article at VICE, the writer took his time to interview several players in the London arcade scene, coming away with a very positive take. One of those interviewed (and pictured) is Toby Na Nakhorn, a regular contributor to the site here. Give it a read and hopefully more articles like this continue to find their way into the mainstream.
I should also mention this article over at Vending Times, although it is trade focused and not mainstream in the sense of a general news site.
Bitmap Books Launching A Book about Beat' Em Ups
Do you love side-scrolling beat 'em ups like Double Dragon, Golden Axe, Streets of Rage, TMNT, and so on? Then Go Straight will be the guide book for you. Per the description:
Get ready for the fight of your life in Go Straight: The Ultimate Guide to Side-Scrolling Beat-'Em-Ups. Written by award-winning author Dave Cook, and opening with a foreword by legendary Double Dragon creator, Yoshihisa Kishimoto, this odyssey through bare-knuckle nostalgia features over 200 games spanning 37 years, starting with Irem's 1984 arcade mash, Kung-Fu Master, continuing through the genre's '90s heyday, and finishing with indie brawlers such as Mother Russia Bleeds and Streets of Rage 4.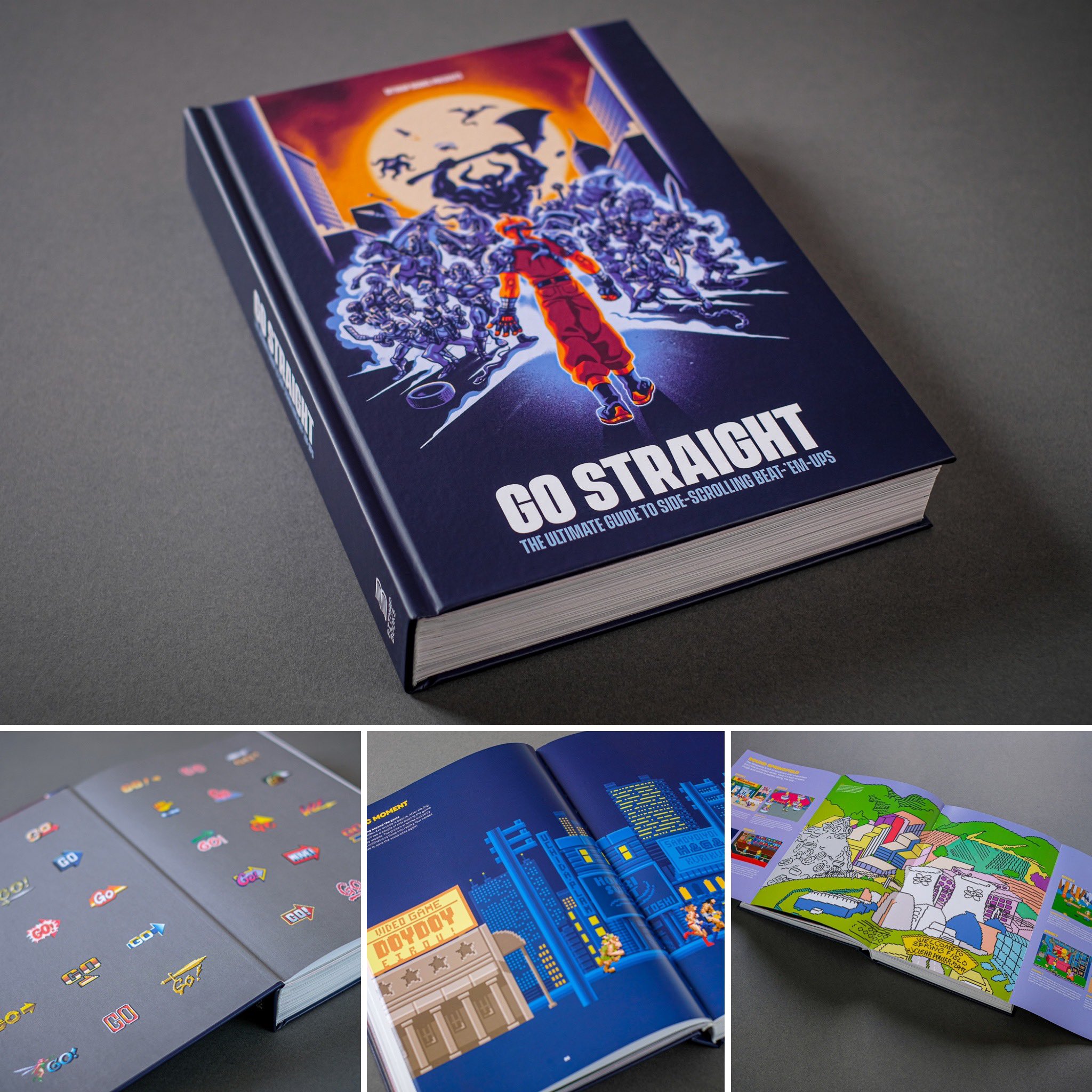 Atari Inc – Business Is Fun 2nd Edition In Development
Speaking of arcade-related books, a new edition for Atari Inc. – Business Is Fun is in development by Marty Goldberg. I discussed this in this Newsbytes video this week, but in case you want to read more about it, here's a link to the announcement on the Atari Museum Facebook page; Also here's a link to my review of the 1st Edition from 2013.
Oh and with Atari being mentioned, today is Atari co-founder Nolan Bushnell's 79th birthday. Happy birthday Nolan!
Queztal Pinball Begins Production On Super Hoop
H/T to Knapp Arcade for this one, where the Spain-based company Quetzal Pinball has begun production on their 3rd title, Super Hoop. When reading the article, I noticed mention of Captain Nemo pinball, which we had briefly covered way back in 2012 when it was still in it's prototype stage, but I had forgot about them since the releases have been infrequent (I also missed mentioning their 2nd game, Tokyo Drift which came out in 2018).
Super Hoop was initially called Super Canasta, with the latter word being changed to Hoops for International markets. The game comes with 5 flippers, a 15″ LCD screen, RGB LEDs and more; You can find a product page in Spanish, here; There's also an hour's worth of gameplay below (in French). Whether or not any US distributor will grab one is unknown, but if you're a European pinball player, then with as many cabinets as they are producing, it looks like you may not have too difficult a time finding one, if you have a local venue into pins.
On Lyman Sheats
The funeral for pinball player & coder Lyman Sheats was held last week, with a tribute page and obituary posted online. Within that obituary, we learn that Lyman was battling with mental illness and ended up taking his own life.
There has been more than one person I've been close to who has also committed suicide, one of which was mentioned on the blog here back in 2018. It still pains me when I think about ECM's passing, as he was a very good friend, one that I spoke with daily, at least about two months before his death. He had suddenly gone into a reclusive mode right after I had come back from IAAPA 2017, and myself and a few other friends thought he was just working hard on a new writing project, until the devastating news came along.
I didn't know Lyman, but I can empathize with those who did. Just writing this brings back the pain felt from when it happened to ECM. For those of us who loses a friend or family member to suicide, I think we all ask ourselves "what could I have done to help?" It's a difficult question to answer and maybe we don't want to hear that answer as sometimes perhaps there is nothing we could have done – in ECM's case, I had no idea that he was battling those demons.  Still, it's a question I ask myself when I think about it, wondering if I could have been a better friend in the time he needed it most.
I'm no therapist, but I think this is an opportunity to share this video from someone who is, and who is trying to help gamers battling depression and thoughts of suicide. If you or someone you know is going through this situation, give it a watch; Dr. K also has many other videos discussing some difficult topics aimed at gamers that are worth watching.
Headlines
[Non-arcade] Sony Buys Bungie – Which leads to this chart, in case you are curious as to who owns what in the biz right now:
The World's Most Popular Arcade Emulator, MAME, Turns 25
Cruis'n Blast On Switch Is Now $19.99
Rush Pro Pinball Is In Production
Fathom Revisited Pinball Also In Production
A Secret Location Test For An Upcoming Shmup For exA-Arcadia Began The Other Day
Round1USA Will Be Raising The Per Game Price On Maximum Tune 5DX+ – Reports are that they've been doing so on other games as well, due to various factors.
[Non-Arcade] The Nintendo Switch Is A Sales Powerhouse – Reminds me of the time some self-proclaimed "gaming expert" argued with me online that the Switch was DOA and that the XB1 is where the money was at. Lol.
[Non-arcade] Expect A Sonic The Hedgehog 2 Movie Trailer During The Superbowl
[Non-arcade] His Cover Is Ready
[Non-arcade] New FPS Dread for Amiga 500 and Atari ST Computers
Full Press Release For Winner Winner:
Playtertainment and National Entertainment Network Launch Mobile Arcade Experience Connecting Players to Thousands of Physical Machines Nationwide
Partnership Creates Largest Arcade Gaming Ecosystem and Retail Marketing Platform in the World
Las Vegas, Nevada February 8th 2022– Playtertainment, a global leader in mobile connected reality gaming, announced today the company is partnering with the National Entertainment Network (NEN) to connect online players with physical arcade games nationwide. NEN is the largest retail amusement game and bulk vending machine operator in the U.S. and the partnership creates the world's leading arcade gaming and amusement-based omnichannel ecosystem and retail marketing platform – with 40,000 assets, including 20,000+ arcade games nationwide.
Playtertainment's live mobile gaming app Winner Winner allows users to play physical arcade machines from a mobile device. Prizes won and tickets redeemed from virtual play of claw machines and other physical arcade games are mailed to the winners. As part of the partnership launch, thousands of in-person arcade games at retail stores, restaurants, and entertainment venues will become a digital gateway to the Winner Winner platform.
"The Playtertainment team is excited to work with an incredible entertainment and gaming operator in NEN," said Jon Davidman, CEO of Playtertainment. "Together, we are creating the largest live arcade platform in the world. We are proud to add the Winner Winner brand to thousands of NEN machines nationwide and introduce more players to our live mobile gaming platform and loyalty rewards program."
The Winner Winner app and NEN gaming network connects players to physical arcade games and family entertainment centers (FEC) as well as online social game rooms. Players can search for NEN machines on the Winner Winner app and transit between in-person and mobile play at more of their favorite local machines. The partnership is also launching a customer loyalty program that will track customer rewards, game credits, coupons, and promotions for games played on Playtertainment's live digital arcade platform and mobile app.
"Combining NEN's 20,000 arcade assets with Winner Winner's industry-leading digital gaming platform creates the world's largest omnichannel amusement game platform, a true merging of the physical and digital amusement experience," said Adam Kamenstein, NEN's Chief Digital Officer. "Together, we are creating a unique experience for millions of loyal players and creating unique marketing opportunities that will add tremendous value for our partners, the country's leading national retail, grocery, and restaurant chains."
"The convergence of Winner Winner's online gaming products and NEN's large footprint of land-based gaming devices across the country positions both operators to capture new clients and for retail locations to engage new marketing investment," says Tisno Onggara and Evan Meyer of Astralis Capital, a strategic investor at Playtertainment. "This is the future of in-person and online gaming, and we are excited to be on the leading edge."
(No link/contact info was provided)