Welcome to Newsbytes, a post where I curate news from around the world of arcades & pinball for your weekend reading pleasure. Let's start with something pinball:
The Playable Pinball Coffee Table By Build XYZ
Building your own pinball machine is a daunting challenge but rebuilding one into a coffee table isn't anything to sneeze at either. The latter is what Loren of Build XYZ decided to do and he was kind enough to pass along some great high resolution pics along with details. He did so back on the 7th but I had unfortunately missed seeing the email until about a week later (thanks for reading the site Loren and for sending that my way!)
I had wanted a pinball machine but did not have a large enough space for one so I hacked my way out of the problem by converting a 1980 Bally Centaur pinball machine into a working and playable coffee table. I know that others have put playfields into coffee tables, and some have gone so far as to light them up, but this project goes beyond that! I have created an interactive coffee table that tilts up and plays just like the original! However, it rests no higher than 18 inches from the ground when not being played. This started as a COVID project took me over a year to complete!
Here's a video detailing the process while you can read much more about it here(this one is particularly good for those who like it technical); Just glancing at it you might miss some interesting details like the spikes…
New Arcades Opening Up In Tokyo This Summer
Doom & Gloom seem to properly convey how Western gaming media tends to talk about the Japanese arcade scene and while it hasn't been rosy, some of it has certainly been overblown through the passion of hyperbole and the Never Ending Quest to Get Clicks.
Fortunately this summer, things are already looking good for the scene in Tokyo. The arcade-focused AM-Net has revealed that at least six new places will be opening their doors, some of them from GENDA GiGO. Unfortunately, AM-Net has this strange habit of posting news like this to Twitter, then deleting after a few hours. I have no clue why they do this, but I preserved the translated tweet here: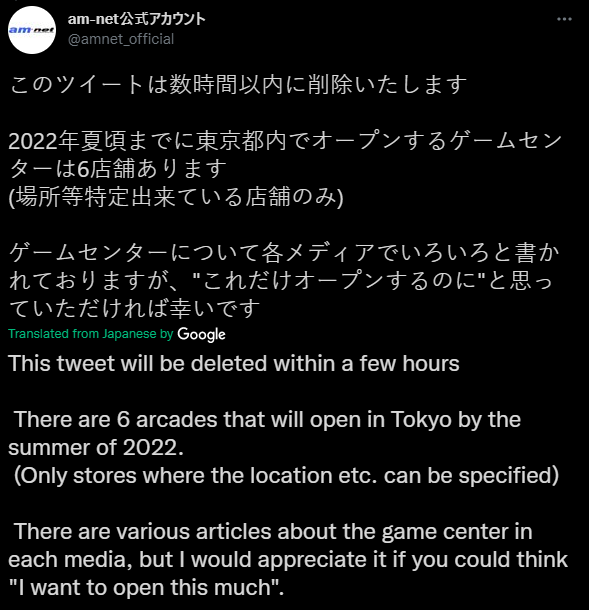 Since I don't tend to get all Clickbaity with these things, it's received little attention, but in case you heard that arcades in Japan were dead, only to be found in archeological excavations 1000 years from now, let me quote Maury Povich:
Cleveland Gaming Classic 2022 Announced
A new gaming convention is headed to Cleveland, OH(or perhaps better to say that it's headed back?), and it will involve arcade games – in addition to console ones. Cleveland Gaming Classic promises "85k+ sq. ft of nerdom!" on September 24th this year, bringing together games of all kinds and ages along with game developers and special guests. Two of those include Mortal Kombat actors Kerri Hoskins and Daniel Pesina – I'm sure they'll announce more down the road. Also, Adam Wray of Retro Raccoons will be there. Check out their website here.
NeoTRIS Shipping Soon For The Neo Geo MVS
Arcade Belgium posted about the "flyers, softdip instructions and marquees" for the upcoming Neo Geo MVS release NeoTRIS hitting production, which means that soon the carts should be shipping too. What do you think?
Meet One Of The Biggest Collections Of Atari Arcade Machines In The World
The video is in French but it also has captions in English – regardless, this is an extremely impressive collection of games for a private owner:
Also related: Discover the top Atari games the company has made, per research into "Top 100" (and such) lists.
The ValoArena Revealed
VR arenas have been all the rage at tradeshows and certain FECs, so what about MXR (Mixed Reality) Arenas? This reminds me of the Scale-1 Portal as well as the Electric Gamebox, but the press release claims that it's the "world's first unattended 6-player XR Arena." I suppose those other two might require attendants, but hearing "world's first" with these things has become as overused as seeing the word "leading" in any VR related press release these days.
The system features multiple games and requires no wearable equipment to interact with the experience; This company will also have a booth at Amusement Expo
New From Huatai Games – Cutting Tree Race
It's been a while since we've seen a strength/hammer testing machine, but I have to admit that I've not seen one quite like this before. That said, while I appreciate seeing an original take on a classic idea like this, the notion of people swinging those axes at the chopping sensors really makes me cringe. Something like this would make plenty of sense next to an axe throwing range though. I posted this to Bitchute since the quality is fairly terrible (the video is not on YouTube as I can find; It was originally posted to LinkedIn), but if the embed below doesn't work then here's a direct link.
Amusement Expo 2022 Update
Just so these don't get lost in the headlines section. The show setup looks similar to last year's make-up, although there are a few more VR companies, UNIS and Barron Games are back, but exA-Arcadia is not. The guys I met with at IAAPA who are officially remaking Taito's Ice Cold Beer will be there too.
Early Bird Registration For Amusement Expo 2021 Ends On The 21st – You can still register after that, it'll just cost you more.
Raw Thrills To Debut New Game At The Show
Headlines
Many thanks to several of you who shared links on these 
Underground Network Imports Japanese Video Game Arcade Machines For US Buyers – Featuring an interview with an Arcade Heroes contributor, Phil Arrington
Stern's Insider Connected Wins Tech Award
Happy 40th Birthday to Taizo Hori (well, Dig Dug 😉 )
Sno Bros. Special Coming To Nintendo Switch – Remake of a great arcade game
Dangerous Seed Now Available On Arcade Archives
A Move Spammers Paradise For Street Fighter II
The Star Wars Episode I Pepsi Machine – If this was placed indoors next to an Episode I pinball machine, then you'd have a nice pilgrimage combo
High Quality Scans For The DDR Performance Guide – Part 1 / Part 2
That's all for this week!