Welcome to yet another exciting edition of Newsbytes. I'm your host, ArcadeHero, and I'll be guiding you through these curated pieces of news for this weekend. Be sure to catch my review of the new NBA Jam book if you haven't already.
PINBALL EXPO 2019 FOLLOW-UP
I probably should have made this it's own post, but it was a busy week, so we'll put the news from PE19 here.
Jersey Jack Pinball Announces Auto Updates & Bluetooth Support
The annual Pinball Expo was held last weekend, and one of the big pieces of news to come out of that event involved Jersey Jack Pinball and not just one of their machines, but all of them. As the headline mentions, this is pushing the online capabilities of the machines to a new level by allowing all of their products to receive updates automatically, and to have Bluetooth support (Dialed In! already has the latter). This is kind of "better late than never," as pretty much all modern pinball machines are supposed to have the ability to connect to the internet, but there's been little to no support in this regard. Here's hoping that changes soon!
Toppers, toppers, toppers
Toppers are a nice little way to give pinball machines a little more character, and now there are new official toppers to grab from Stern Pinball, Chicago Gaming and Spooky Pinball (H/T to This Week In Pinball for these links)
Now back to your regularly scheduled programming:
Levels Trailer For Outnumbered
LAI Games will soon be gracing the industry with a video-only title in the form of Outnumbered, which will be one of many games we'll come across at IAAPA 2019 in a few weeks. LAI also has a few videmption titles in the works that they haven't officially announced yet, but are coming. Running up to Outnumbered's big Western debut, I was provided a few videos that I decided to cut into one trailer; I'll have a little more news about this soon. In case you missed it from the post on the AH YouTube channel, here you go:
Capcom Home Arcade Preview
Thanks to Fossil Arcade for tagging me on this earlier in the week. I had almost forgot about the upcoming mini-arcade-console-as-an-arcade-controller, but it looks like interested parties will have their hands on this one soon enough:
AtGames Begins Shipping The Legends Ultimate Arcade
Also mentioned on the site in the recent past, AtGames (creators of various console "clones" like some of the Atari Flashback and Sega Genesis mini-console series) announced their own intention to take on Arcade1up with a mini-cab they call the Legends Ultimate. No release date had been mentioned when the press release was sent out, but now that has apparently changed as the company has launched a website to promote the cabinet's release. It states that you can buy it directly from AtGames or find them at Sam's Club and Wal-Mart. I do have to take issue with them trademarking the phrase "The World's First Connected Arcade," as that simply isn't true when stated in such a generic way. Golden Tee, Big Buck Hunter and a slew of other games would also dispute the notion, given that arcade machines have been online since the early 2000's.
Anyways, I guess we'll see how these compare to Arcade 1up soon enough. They have the games, but will the hardware be up to snuff?
Monster Eye Goes Standard
Here's a little surprise from Wahlap – they have taken their Monster Eye light-gun game (first released in 2014) and have given it a standard model. Why they are doing so with the first version of the game and not the 2nd (which was released last year) is beyond me, but as a small operator, I always can appreciate new standard game entries. In thinking about it, this could be one of those odd instances of a manufacturer posting a video of an old product just now. That happens sometimes. Also, to any company in the business of manufacturing games: Don't ever use a phone to film your products. Signed – The professional world. (They also posted a video of Pac-Man Panic, but it's so terrible thanks to being filmed on said phone that I won't bother you with it)
Taito Continues Embracing High Score Girl
Grabbed from this tweet (not embedding as WordPress continues to be stupid about Twitter embeds). If you're a fan of HSG, then Japan is the place to be. This is from Taito's arcade/bar in Tokyo by the name of MEGARAGE. They seem pretty good about doing special event stuff like this.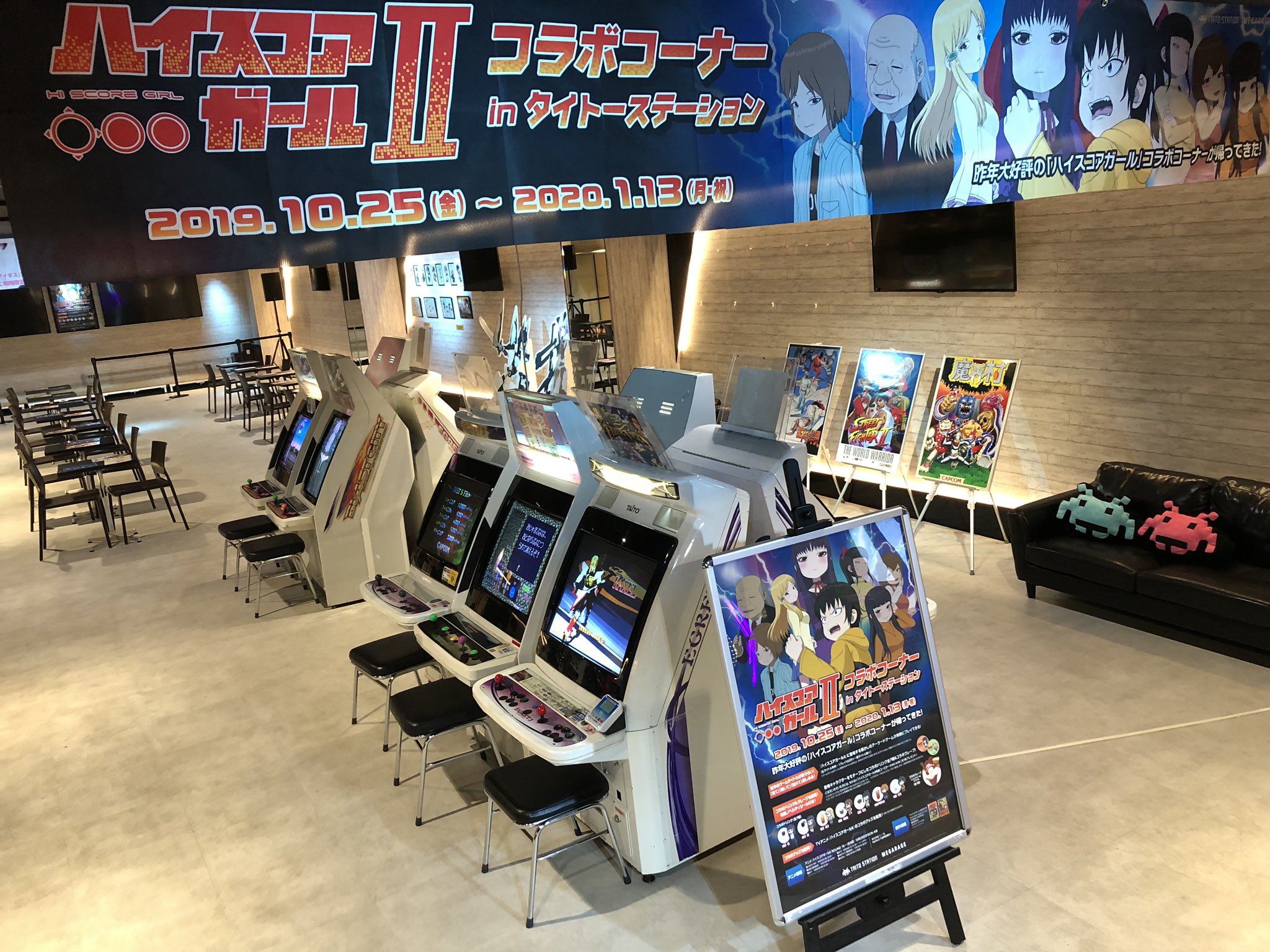 Joypolis' Zombie Zoo
Also in Japan is a new Halloween-themed attraction at the Sega Joypolis in Tokyo called Zombie Zoo. Sounds like a clever idea, but if you want to check it out, you'll have to visit by Nov. 10th. After that, it will be closed, probably to make room for the next attraction they want to do.
We'll leave with a laugh, albeit a slight overreaction to losing the high score 😛