Welcome to Newsbytes, a weekend collection of various arcade/pinball news items that are curated for your reading and viewing pleasure. I do try to get this posted on Saturday, but ended up getting delayed from various life things. I did find out that Season 2 of High Score Girl has been posted to Netflix for a while, which news I had missed for a while somehow…so I'm starting to catch up on that.
Anyways, here is the news:
Virtual Expos – Southern Fried Gaming Expo, AEGAEE 2020  & California Extreme
While there is no telling when a physical get-together expo will be able to happen (IAAPA is looking like one of the few, still), the shutdowns have not stopped some events from going forward in a virtual sense.
For the Southern Fried Gaming Expo that was to be held in Atlanta, GA on July 10th-12th, they have uploaded a number of speakers to YouTube. Here is one of many of those, an interview with Warren Davis, creator of Q*Bert. You can find many others on the SFGE channel.
Another event that had an online presence was the Asian Electronic Game & Amusement Online Expo 2020. Here's a landing page for Wahlap, a major Chinese based distributor that has shown up at IAAPA many times in the past (most recently with Speed Driver 5; they are also partnered with Raw Thrills, Bandai Namco & Sega on some games). There are several lengthy videos you can watch on the page, they are direct files instead of YouTube or some other service, thus vary in quality and . Eugene Jarvis offers a brief address in this video, which is the first and only statement I've seen him make regarding the pandemic. I'm not 100% sure when his statement was filmed (might be June as he mentions rising fears from the time), but he does predict that we'll be partially recovered next year and fully recovered by 2022, but also throws out the sobering statistic that 10-15% of locations are expected to close permanently. Unfortunately, I've heard of a couple of places closing this week, including the famous Modern Pinball in NYC.
While the arcade games shown on that page tend to be known entities, I did some browsing of some of the videos and did come across some new stuff. There are some new redemption pieces they show, but there is a video title – a jet ski simulator game called Jet Blaster. It has a surprisingly bulky monitor section, but maybe that's just an optical illusion from the camera and the angles? Here is some low quality footage I captured from the stream:
Last but not least, is California Extreme. Had things been normal right now, CAX would be getting ready to rock this next week, but since they aren't, they will also being holding a virtual event on August 1st via Twitch. You can stay up-to-date with them through their Forums or their Facebook page.
Part Of Project Neon's Attract Mode
One thing that every arcade game needs is an attract mode, so the developers of the upcoming STG Project Neon have shown some progress in that regard – running on a real MVS!
Here is the scene running as part of the attract mode on the MVS. pic.twitter.com/FeUOymm49b

— FULLSET (@FULLSET_Collect) July 12, 2020
On The Hunt For Zombie Deer
Ever since online content became available for Big Buck Hunter, I've been hoping that they would add something like Zombie Deer to the mix and now they have in Big Buck Hunter Reloaded. Here's a direct capture of that gameplay from my BBHR machine, although my skill on this one is not very great (I've been trying to upload this one to BitChute, but keep running into processing errors):
Terminator 2 Arcade Pix Brix Edition
This past week a bit of hubbub spread across the Internet with the revelation of the Lego NES. While Lego's are the most famous building brick on the market, they aren't the only ones around. Pix Brix offers an alternative to Lego, allowing people to more easily create 2D art on surfaces than Lego does (by what I can tell). Using those, one artist created their own Terminator 2: Judgment Day mini arcade machine. Granted, this is not a playable machine, just a crafted sculpture of the real thing. More photos for this one are found on the Pix Brix Facebook page. (H/T to Kevin Williams for the find)
Rockman VR (Mega Man) Opens In Tokyo
After the initial tease for Mega Man's entry into the Virtual Reality space, players in Tokyo can now experience this fresh entry in the Rockman/Mega Man franchise. To add to the fun & immersion, the controller is a Mega Man blaster. You can take a "commemorative photo" with it on too. Kevin Williams reports that it's a fee of 1500Y to play; Japanese game website Game Watch has various other details in case you are interested. You can also find the main website for it here.
G.Rev Turns 20
G.Rev has been absent from arcades for a while, although that is changing with the upcoming release of Strania EX. The company started off with the shoot 'em up game Border Down, but I would guess that Strania is the title they are best known for. To celebrate their 20th year in existence, they have this post which provides a history of where they had been located, from a humble apartment to trying various offices. Congrats to the G.Rev team!
What is your favorite G.Rev made game?
Gauntlet History
Curious to know about the history of Atari Games' Gauntlet? Well here you go (I haven't had a chance to watch this one through yet, thanks to Jbrpg for the tip)
Happy Anniversary To The Last Starfighter
This past Monday, a "cult classic" movie celebrated it's 36th birthday, something that you might have seen before called The Last Starfighter. While it wasn't a resounding success in theaters at the time (just like TRON), it has held up over the years, and holds a place in the hearts of gamers, fans of early CGI and heroic sci-fi stories alike. With this anniversary, some news came to light from the production, such as this early concept art of the arcade cabinet that was eventually produced for the film(drawn by Ron Cobb; thx to Spaceshipporn on Twitter for posting this and some other cool TLS stuff):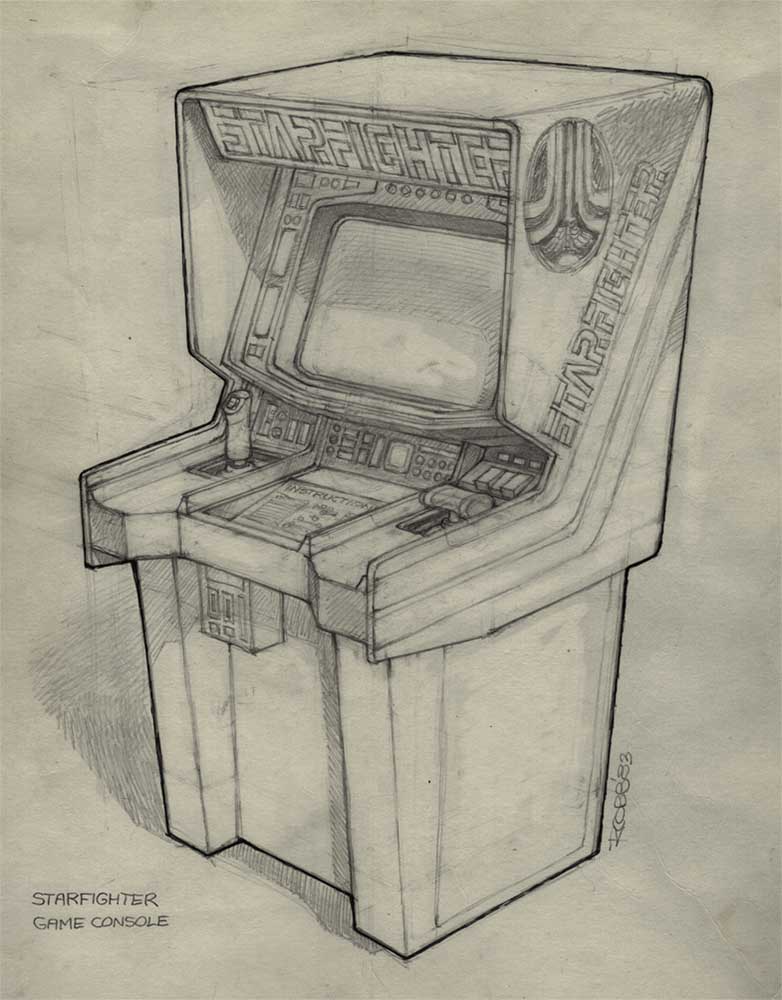 Atari was working on a real Starfighter game to accompany the film, but while legend has always held that the high cost of the cabinet caused it to get the ax, game programmer and designer had more to add to that along with the game's production. From the Atari Games Coin-Op ground and Jim Morris:
I also heard that it cost too much to make and that was the reason it was canned. However there were games that were the same price that did ship a year or so later, so not sure it was entirely due to cost.
I would venture to guess that it was in part due to cost, but also due to the fact that the movie was a flop (a similar  reason is what killed a Tron Legacy light-cycle arcade game back in 2010-11). On top of that, the game just wasn't very fun:
The game was almost complete. It was mostly based on the little I could glean from watching clips of the game in the movie, with some game play based on the action in the movie. To be honest it wasn't a very fun game to play, and in order to justify the high cost it would have had to have had amazing game play, but it didn't 🙂 It was really more of a technology showcase of what solid 3D graphic games could look like, and what could be done with the 68000 CPU and DSPs for the math, and it set the stage for much better games like Hard Drivin, Stun Runner and Steel Talons. Although they used different graphics H/W the technology was similar. I wrote the original math box for those later games based on what I learned from doing Star Fighter.
If a game wasn't fun, then it wouldn't last on test either. A game that tested poorly was in danger of being canceled, and something that was looking like a money pit, combined with a failed box office, meant that Atari decided to cut their losses. That all said, work on TLS and Air Race, a game that would use the same hardware, would setup Hard Drivin' a few years down the road.
Here is some real footage from the unfinished The Last Starfighter arcade game, uploaded to YouTube years ago by Mr. Morris (his last project at Atari was Air Race)
That's all I've got for now, thanks for reading!