Welcome to an ultra-rare Leap Day edition of Newsbytes. As a note, I am working on a post about an unreleased Atari Games title called Bounty Hunter, which should be an interesting read to those who like game design, game history and prototypes. I'm aiming to have that up Monday morning…or maybe tomorrow depending on what happens with my schedule.
Until then:
GDC 2020 Canceled Due To Virus Fears
A few weeks ago it was revealed that I was organizing an arcade for the Game Developers Conference in San Francisco. It was going to have official participation from Raw Thrills, Sega Amusements, American Pinball and Glitchbit. But unfortunately as the COVID-19 virus has spread from Wuhan, China to various other countries around the world, this has been having a negative impact on economies and big events. The latest cancellation is of GDC 2020, which had to make the tough decision to cancel/postpone the event after several major companies pulled out over viral fears. As it is, I'll be looking to get an arcade in place for GDC 2021 – just as long as there isn't another unique situation like this.
Speaking of this virus panic, I'm curious to know if any operators out there have been seeing a negative effect on their business? For players, have you been changing your plans on visiting a venue? For my place, I've been more proactive than usual in wiping controls down with Lysol wipes, keeping hand sanitizer stocked and always making sure to wash my hands (properly). Haven't worn a face mask and haven't seen anyone doing so yet, but this week I experienced one of the slowest days I've seen in years (but today being Saturday has been steadily busy). In Japan they've been taking "defensive measures" too, although things have been a bit more serious there with the outbreak.
Arcades At PAX East 2020
Fortuantely, not all events have been canceled in the US, as PAX East did go ahead this week (I've also confirmed that Amusement Expo 2020 is still on in New Orleans; I'll be headed there). As a part of PAX, there were at least two indie arcade developers showing off their wares.
Gungeon: House of the Gundead (Griffin Aerotech / Devolver Digital)
Arcade Belgium shared some photos they obtained from Griffin Aerotech head Phil Golobish of their impressive Pax booth, with the first public display of their new light-gun game Gungeon: House of the Gundead. Apart from the really nice backdrop, they also added a nice touch of bullet casings all around the base of the cabinet. I like the art style on this one; curious to know more about the gun system they are using too. As far as I am aware, this is still supposed to launch sometime in March:
Armed & Gelatinous (Three Flip Studios)
We mentioned this one a couple of weeks ago when the company launched a promo trailer for it, and it was at the show too. They also had their console version available to play, in case the arcade cab was packed. This one is available at a few locations out there, per the description on their Twitter profile. This cab has a more 80's style aesthetic to it than the Gungeon cab, and handles up to 4 players: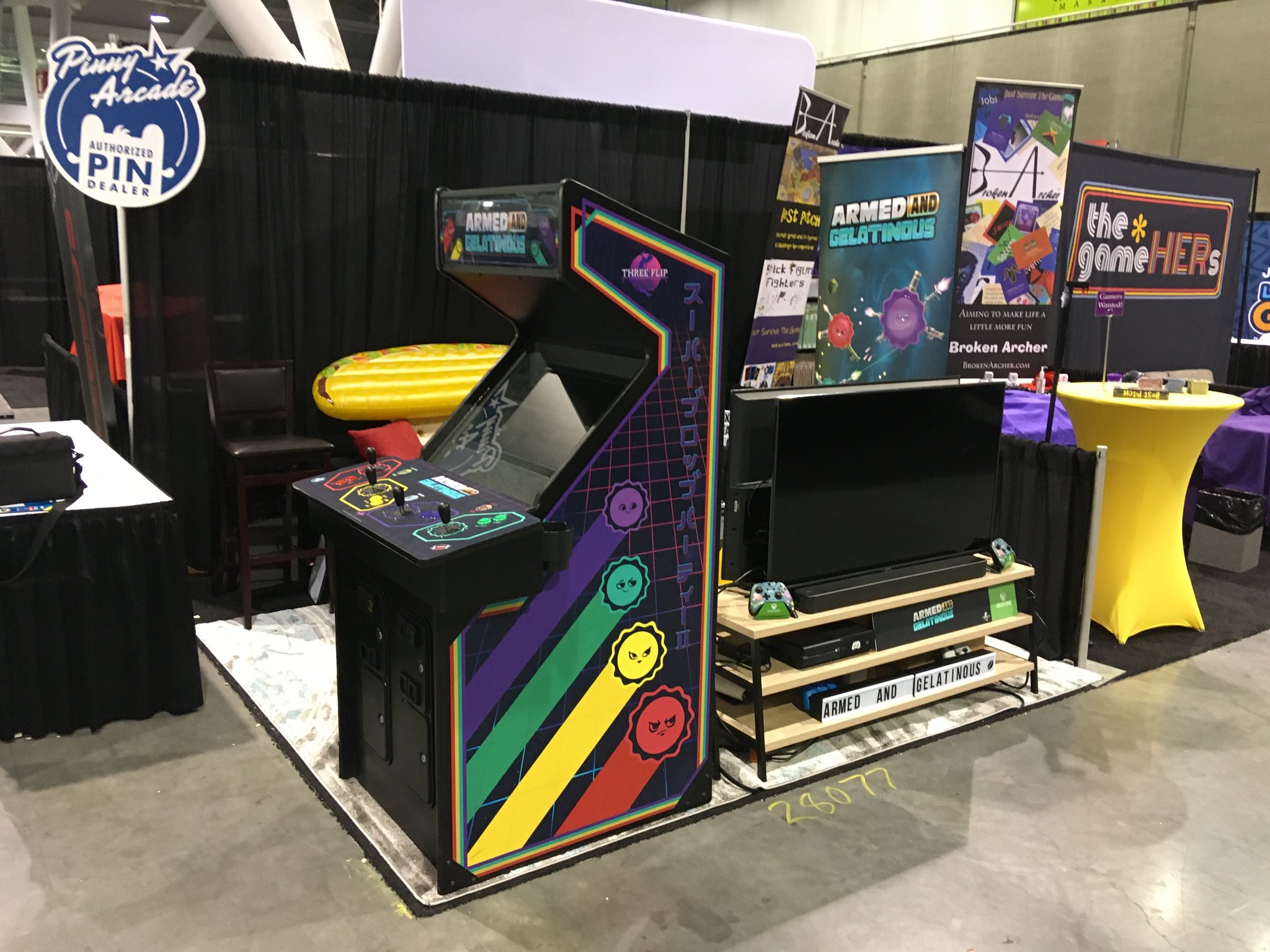 If anyone reading this was at PAX and played either of these games, let us know what you thought about them!
Dark Presence At C2E2
Another show that went forward without a hitch was the C2E2 in Chicago. Galloping Ghost Arcade was there with a number of their rare pieces, like Primal Rage II, and they also brought along the latest build of their 1v1 fighting game, Dark Presence. Check it out in action from this tweet by D.J. Tatsujin. By this, it's looking pretty solid…hopefully we'll know about a potential release date on this one soon. More photos of the Galloping Ghost area are on Facebook:
The newest build of Dark Presence by @GallopingGhostP at C2E2. More stage and character detail and balance tweaks since the last public version. pic.twitter.com/aqWYPFnfZ2

— D.J. Tatsujin (@djtatsujin) February 28, 2020
Day two fighting on Dark Presence by Galloping Ghost Productions at #C2E2 pic.twitter.com/LNZRMkDPUM

— D.J. Tatsujin (@djtatsujin) February 29, 2020
LAI Games Releases Trailers For New Virtual Rabbids Films
We've previously covered the addition of three new ride films to the popular Virtual Rabbids: The Big Ride system by LAI Games, and this week the company uploaded new promos for each to YouTube. Here's the Space Skirmish level that has some interactivity to it; the others are found on LAI's YT channel. LAI will be at Amusement Expo to show off these, as well as Outnumbered and a few of their other IAE19 games:
Touch Magix Promo For Drift 'N' Thrift
Another new promo that dropped this week is from one of our advertisers, Touch Magix. I captured Drift'N'Thrift at IAAPA 2019 when the game debuted, but this promo has some direct capture footage of the game for anyone interested. They will also be at Amusement Expo showing a similar collection of titles as they had at IAE19:
A Look Back At The Great Game Crash Of The 80's
H/T To Arcade Repair Tips for this old story from the CBC that was brought back up this week to get into reasons behind the arcade slump of the mid-80s. One of the reasons: price on credits going up from 25¢ to 50¢, or games being "too easy." Those factors don't really apply right now, although I still occasionally hear whining that my charge of 4 tokens for $1 is "expensive." Find a video at the link of the back-in-the-day reporting.
Kazuhisa Hashimoto, Creator Of The "Konami Code," Passes Away
It's not arcade related, but general gaming on this one – RIP to Mr. Hashimoto
We are saddened to hear about the passing of Kazuhisa Hashimoto, a deeply talented producer who first introduced the world to the "Konami Code".

Our thoughts are with Hashimoto-san's family and friends at this time. Rest In Peace. pic.twitter.com/vQijEQ8lU2

— Konami (@Konami) February 26, 2020
Have a good weekend out there!